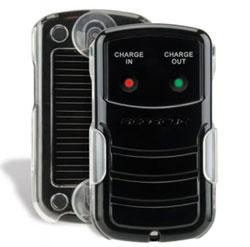 When we are on the go with our mobile devices, no one wants to run out of power. There are all sorts of gadgets on the market that are designed to keep our gadgets powered up and usable. Scosche has announced its latest portable battery pack called the solBAT II.
The device is a solar charger and back up battery with two LEDs on the top to show when it is making power from the sun and when it is charging a connected device. The charger can recharge any device that connects via USB. That means Blackberrys, iPhones, and iPods are all compatible.
The battery inside the case is a 1500ma lithium-ion rechargeable. The charger ships with a windshield mount and a carabiner to connect it to a suitcase or backpack. A USB cable is included to charge the internal battery from a computer or USB charger.
battery, Scosche