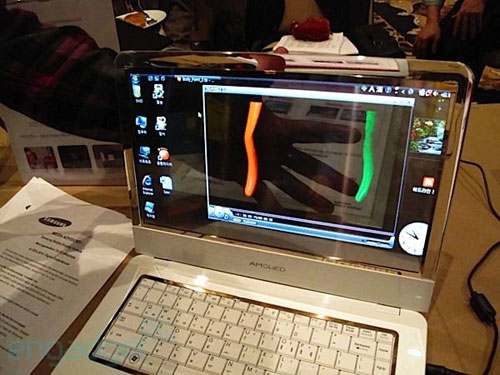 Nokia has a phone that has a clear screen that was all for looks. I don't care for being able to see through a screen myself; the feature is more of a gimmick to me. I certainly don't want to be able to see through the display of my notebook at what is going on behind me.
Samsung showed off a notebook with a transparent AMOLED screen a while back and the notebook was popular enough that reports are now coming in that Samsung plans to bring the notebook to market in the next 12 months. The machine will come with the clear AMOLED screen that will drive the ADD prone to be unproductive.
Samsung is also reportedly looking to bring more transparent screen devices to market. Perhaps the coolest, and most useful, of the rumored products is a GPS navigation device for cars. This one transparent screen device makes sense. Seeing through your nav would eliminate blind spots when driving.
Notebook, OLED, Samsung