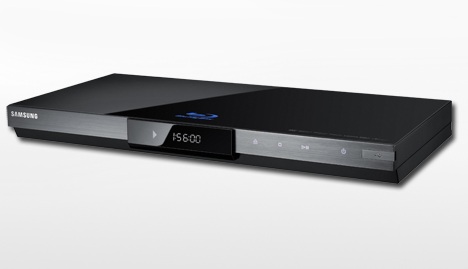 Today we were able to try out the Samsung BD-C6500 1080p Blu-ray player, one of Samsung's latest line of players featuring high-definition video along with the Samsung Internet@TV. The new players do a good job of grasping onto the future of digital media by bring internet connectivity into the player and directly into your TV.
The BD-C6500 player features the ability to playback full Blu-ray 1080p HD video along with Dolby Digital sound and output it through HDMI, S-Video, Optical and 7.1 analog audio. What's really interesting about this player however is it's integration to the internet and online media.
Samsung's Blu-ray player boasts a very quick, 15 second boot time and has a built-in WiFi adapter for connected to your home network. (There is also a Cat-5 cable connection if you would like to connect it directly.) This is an important thing to note since a number of Blu-ray players recently released are "WiFi Ready". WiFi ready usually means they have a USB port available where you can plug in a WiFi adapter that you purchase separately in order to connect wirelessly. If you are planning on going wireless you may want to compare the cost and trouble of having a WiFi adapter built-in like the BD-C6500.
In our test we did use a WEP-secured wireless connection, which was fairly easy to connect. The player walked us through the steps and found our wireless broadcast, and then we were able to enter in the key through an on-screen keyboard that can be navigated with the remote.
Once connected we could use the Samsung Internet@TV features, which included a small number of apps at this point. Applications included Netflix, Pandora, Blockbuster and YouTube, as well as a weather and news channel. The interface appeared to have room for searching and navigating many more applications but there were just a few at this point.
We connected to our Netflix and Pandora accounts, as well as watched some YouTube videos through the player and all were easy to use and worked well, provided you have at least a 1.5M connection (the system has a tool to test your speed as well). Connecting to our Netflix and Pandora accounts was actually very simple and quick. Instead of having to log into the accounts through the on-screen interface, the Samsung player software provide a code to enter into our accounts online through a separate computer. This made all of the logging in done where we had a convenient keyboard. Once the codes were entered through our computer the Blu-ray player's Internet@TV software acknowledged the actions and we were off and running in seconds.
Samsung has additional features along with Samsung Apps, some available on the player and some yet to come, that allow streaming media from Samsung's own site as well as the ability to access more media from a USB drive or sharing information (with AllShare) between devices or your computer on your home network. Watching media streamed from Netflix had good quality and was easy to use. Pandora and YouTube both also had nice, easy to use interfaces and worked very well.
We did notice that navigating around the Internet@TV features all had a little delay after pressing a button on the remote and didn't snap to the next screen as we would like, however once we got used to the slight delay it was pretty easy to get around.
Of course watching Blu-ray movies through the BD-C6500 provided a great picture and was easy to control. The player itself also has a nice, sleek design with the disc tray cleverly hidden behind some trim. We actually had to push eject just to find the opening for the tray.
Overall we found the BD-C6500 to be a great player with automatically update-able online features that will keep on giving. It's a nice solution to provide both a high-quality Blu-ray disc player and a bridge to bring online digital media to your TV in one package. The features it has work well and seemed worth the $249 price tag, and we're looking forward to more services through Samsung Apps and Internet@TV.
Blu-ray, Internet@TV, Netflix, pandora, reviews, Samsung, Samsung Apps