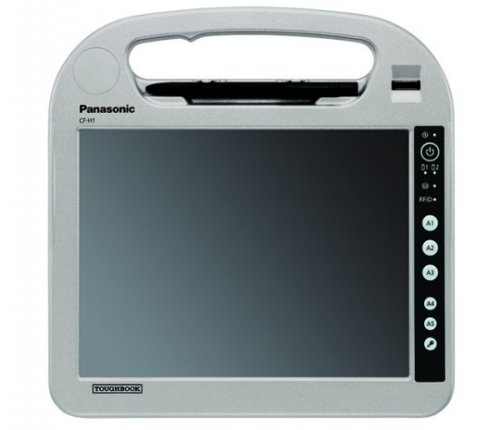 Panasonic has launched their latest Toughbook PC, a rugged tablet called the H1 Field. The Toughbook H1 Field is based around a 1.86GHz Intel Atom Z540 processor and sports a 10.4-inch XGA sunlight-viewable dual-touch LCD that responds to finger control and input from an active stylus.
It's rugged enough to survive a 6ft drop, extremes of temperature etc. It's tough. Don't mess with it. Harsh conditions are it's middle name. Some other features include WiFi a/b/g/n, Bluetooth 2.1+EDR and optional Gobi2000 WWAN (for both EVDO and HSPA 3G). There's also an optional GPS, fingerprint security, 2D barcode scanner, a 2-megapixel camera with LED flash, RFID reader and SmartCard reader.

Battery life is 6hrs, and it has dual hot-swappable power packs. Also on board is 2GB of RAM and a 64GB SSD, while the OS is Windows 7 with an XP Tablet Edition downgrade option. The Panasonic Toughbook H1 Field should go on sale in March 2010 for $3,379.
Field rugged, H1, Panasonic, tablet, Toughbook