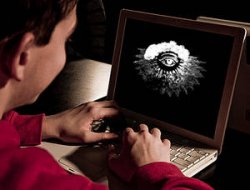 Here's a creepy tale involving a Pennsylvania school, and an abuse of technology and power. A Pennsylvania school district has been accused of spying on its students through webcams. Webcams in laptops which the school provided. Spying on them at home.
The district gave laptops to all of their students and were apparently able to activate the webcams remotely. Beware school officials bearing gifts…

It was discovered when a student was disciplined for "improper behavior in his home,". The Vice Principal even used a photo taken from his laptop's webcam as evidence. I wonder just how they think this behavior is justified. If a kid did this, they would want him thrown in jail, so I would hope the same applies to the officials involved.
Home, laptop, PA, Pennsylvania, school, spying, students, Webcams