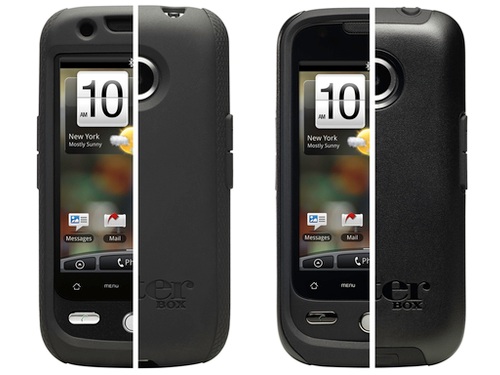 Otterbox has released a couple of new protective cases for your HTC Droid Eris phone, adding to their Commuter and Impact series of cases.
OtterBox's Commuter series case (on the right in the above photo) for the HTC Droid Eris provides 3 layers of protection with a screen protector, silicone mid-layer and a polycarbonate shell. The Impact series, like it sounds, is a little more padded to provide protection from impacts to the device and has a couple layers including a screen protector and molded shell.
Both cases provide full access to the screen, buttons, camera and microphone. The Commuter Series Eris case provides a little bit more sleeker look than the Impact version and retails for just under $35. The Impact protective case goes for just under $20. Both of these cases are available now from OtterBox.

HTC Droid Eris Commuter Series Case
HTD Droid Eris Impact Series Case
Cases, droid, HTC, HTC Droid Eris, Mobile Phones, Otterbox