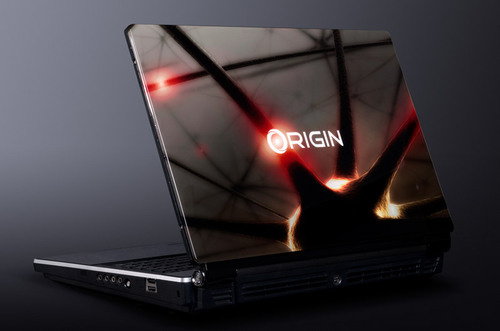 After Dell bought Alienware in 2006, three execs decided to quit so that they could create their own company, Origin, and make high end gaming PCs like Alienware. Their first endeavor is finally here and is dubbed Eon 18. It's a stylish and highly customizable gaming laptop with an 18.4″ full HD widescreen display, dual Nvidia GeForce GTX 208M GPUs, 7.1 high-def audio, and up to three 250GB SSDs.
It sure looks like Alienware, just without the alien logo. Right now it has a Core 2 Extreme Quad QX9300, but on Monday it will get a Core i7. Don't expect much battery life with those specs. Only 45 minutes when gaming unplugged.

You can order any color and design you want for the lid and even have your name or logo instead of Origin's.
Eon 18, gaming, laptop, Origin