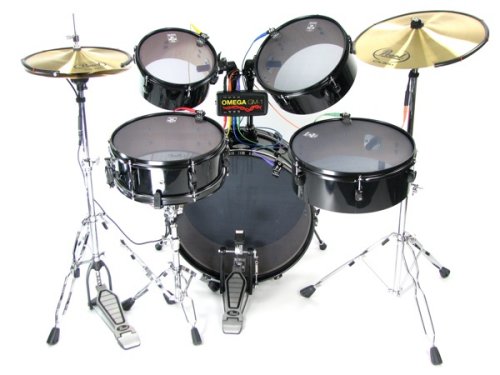 Sure, there are some mods for using a real drum set with Rock Band or Guitar Hero, but Omega Music Technology's new GM-1 system is the first off-the-shelf option, which is great if you are DIY challenged. The kit is available on its own or bundled with a Pearl drum set. The system is equipped with individual sensors that detect each and every drum hit with "speed and accuracy", so it should be pretty reliable.
You won't have to worry about the neighbors or other members of your family getting annoyed either as there is support for mesh heads and a dampening system for the cymbals. If you go for the actual drum set package, you'll also get some authentic drum heads. Omega even says that the system is a great way to learn to play the drums.

The basic system will cost you $249.
drum set.drums, Omega GM-1, real, rock band