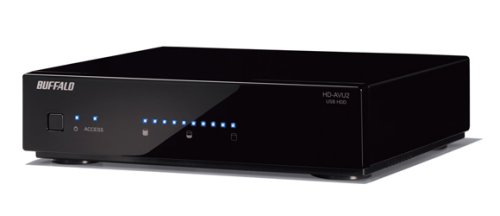 Sony Computer Entertainment Inc. has officially endorsed two new 500 gigabyte external USB hard drives for the PS3, in Japan. The Buffalo HD-AV500U2 and the HD-CL500U2 are the first add-on storage solutions to be officially recognized by Sony and are being released overseas in March. The launch coincides with the launch of the PS3′s "torne" DVR hardware / software combo.
Neither drive has any special features that make them usable only with PS3; in fact, the HD-CL500U2 is basically one of Buffalo's already available external HDDs, with a model number change. The HD-AV500U2 will fit into your existing entertainment center setup and has a handy blue LED display that shows remaining disk space.

$130 and $164 after conversion.
external, hdd, japan, PS3