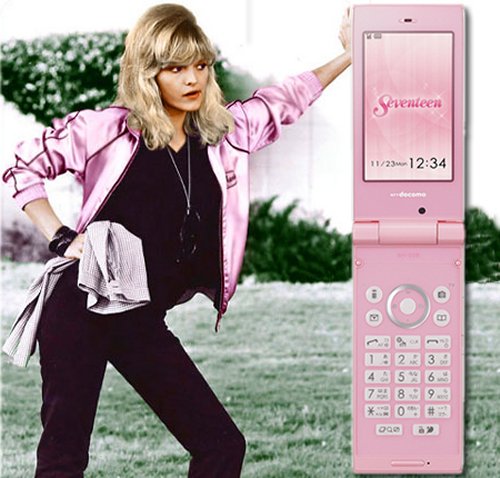 Is that really an image of Michelle Pfeiffer from Grease 2 being used to pimp out yet another pink phone to girls? Why yes. Yes it is. Though I'm not sure if this is an actual image from the company. Japan's NTT Docomo has teamed up with "Seventeen" magazine to announce a new FOMA branded clamshell device in Pink. The "SH-05B" is arriving on Feb 05th and will be available in two versions of Pink. Yurukawa pink which means "loosley pink" and yancha pink which means "mischievous pink".
The handsets are pretty boring with a small monochrome display on the outside and a large 3.0-inch TFT on the inside. Some features include a 5MP camera, microSD card support (up to 16GB), GPS and Bluetooth.

It's also 3G ready and has a mirror function for the camera.
NTT DoCoMo, phone, pink, Seventeen magazine