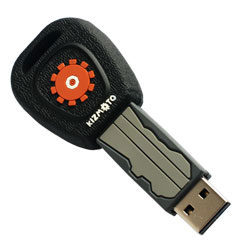 Lots of people out there like to keep a flash drive on them at all times. This allows them to be able to share files and move files to and from a computer or between home and the office without having to dig for floppy discs or burn a CD or DVD.
Active media Products has unveiled a new flash drive called the MotKey that is designed to look like a car key. The point of the device is that the MotKey will blend in with the keys already on your key ring. The MotKey is offered in 4GB or 8GB capacities.
The drive is coated in rubber to prevent scratches and enable it to withstand drops. The device is compatible with almost all operating systems on machines with USB 2.0 or 1.1 ports. Pricing for the drive is under $25.
flash drive, USB