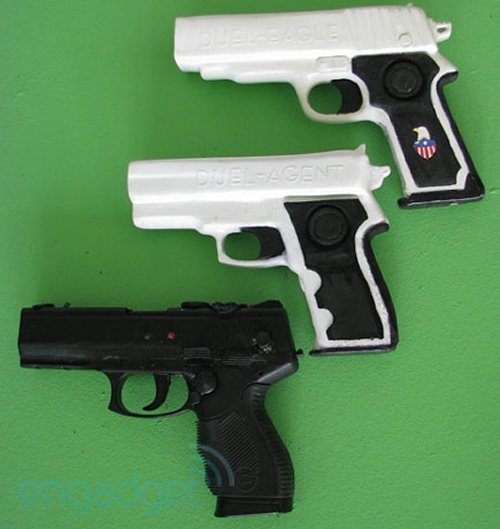 As a Wii owner you certainly have your choice of guns to choose from. But these are pretty good looking. Everything is still in prototype form, but it's impressive. MoProUSA is looking to create a new range of gaming pistols, including one that requires no Wiimote and Nunchuk to operate.
The Duel Pro is modeled from a replica pistol, and has the guts of a Wii controller and Nunchuk inside. There's also an analog nub on each side that lets you switch from one hand to the other. A color-changing LED is positioned on the rear for instant feedback.

The Duel Eagle does use a separate Wiimote inserted in the top, but places the 'C' and 'Z' buttons on the gun's handle. The Duel Agent works similarly, but provides a more compact design. The company has no plans to manufacture these on its own, but hopes to find an investor or two to buy the utility patent.
gun, MoProUSA, Nintendo, pistols, Wiimote