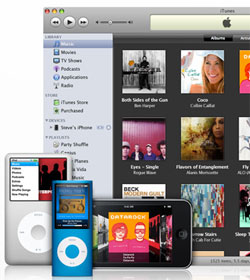 Love or hate Apple, no one can deny that Jobs and his team can make and market a product. The company has the most popular music store around and sells more apps than anyone else sells as well.
Apple has announced that the 10 billionth song has been sold via the iTunes store. The song that made the historic 10 billionth purchase was "Guess Things Happen That Way" by Johnny Cash. The track was purchased by Louie Sulcer of Woodstock, Georgia.
Sulcer won a $10,000 iTunes gift card for his purchase. That will buy a lot of tracks from the Man in Black. I guess the dude could buy lots of apps for the iPhone too.
Apple, iTunes