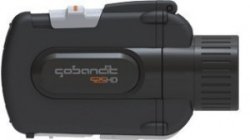 The GoBandit HD GPS camcorder offers 720p HD video recording capability, is waterproof and comes with a lens that rotates. It also has built-in GPS which shows your current and maximum speed as well as altitude on a 3D map. Pretty neat.
If you like you can attach it to a helmet, goggles or other equipment. It weighs just 145 grams. Great for those with an active lifestye. The GoBandit HD GPS camcorder will retail for about $400 when it becomes available.

Seems expensive, but you get a lot in a small package.
camcorder, GoBandit, GPS, HD