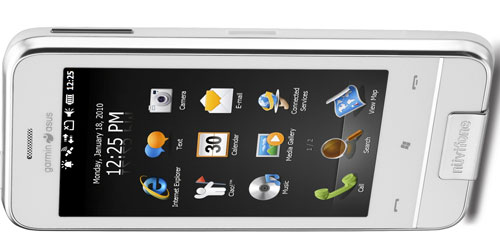 I already mentioned that Garmin-Asus has offered the official introduction for the Android-powered A50 smartphone. The company has also offered the official launch window for the Windows Mobile sibling to the A50 called the M10.
The nuvifone M10 runs Windows Mobile 6.5.3 and will hit Europe and Asia in the first half of 2010. The price for the device is unknown as is availability in other countries. The handset uses a 3.5-inch WVGA touch screen.
Data is entered with a QWERTY onscreen keyboard. Storage for the handset is 4GB of flash and the M10 has 512MB of RAM and 512MB of ROM as well. Power comes from a 1500mAh rechargeable battery and the handset supports WiFi and HSDPA.
ASUS, Garmin, smartphone