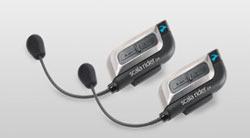 Motorcycle riders who ride with a passenger often need to talk to the other person to pass the time or to take a break. Without an intercom, the only way to do this is by yelling really loud or tapping the other person on the shoulder.
Cardo Systems has unveiled a new Bluetooth intercom system for motorcycle riders called the scala rider G4. The device allows up to four people to use the intercom in full duplex mode. The intercom has a wireless range of up to a mile.
The system can also be synced with a Bluetooth phone or other Bluetooth device and supports A2DP streaming. The G4 system has a built-in FM tuner with RDS and supports voice activations. The system is available now for $279.95.
Bluetooth, Intercom