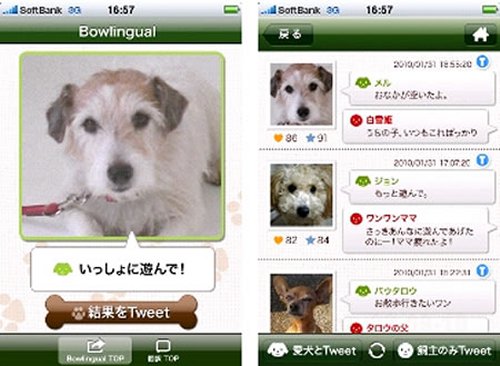 Forget real-time translation of speech from one human to another. What we really need is to understand what our dogs are saying. TheRe's an app for that. One that will translate what your dog is saying. The technology actually won the 2002 Ig Nobel Peace Prize.
It's called BowLingual and it's about to be ported to the iPhone as an app from the App Store. So just what is the 'Ig Nobel Prize'? Wikipedia says that "It's an American parody of the Nobel Prizes and are given each year in early October for ten achievements that "first make people laugh, and then make them think".

Well that explains it. The app also has Twitter support so that dog owners can post what their canine friends say. Look for BowLingual on the App Store later this year.
Bowlingual, dogs, iPhone, translates, tweet, twitter