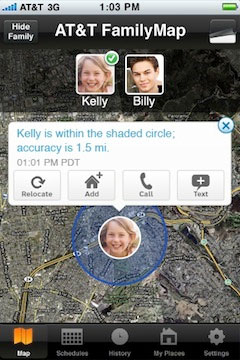 AT&T has offered a service for a while now that lets family members track their family using their phones. The service used a map on a computer or software on some of its mobile devices to show where a family member was at the time.
AT&T has announced that the FamilyMap app for the iPhone is now available. The app lets a user track the location of other family members on their talk plan directly from the iPhone. The app lets the user set up areas that kids are allowed to travel in and places where they are allowed to be.
Individual locations on the map can be labeled like home or school. If the phone user moves outside a defined area, the app will alert the user of the issue. The app is free to download, but to use it requires a monthly fee of $9.99 for up to two phones or $14.99 for up to five phones.
AT&T, iPhone