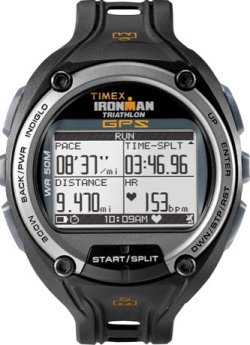 We haven't seen any interesting watches from Timex for awhile now, but check this guy out. It's the company's new GPS-on board watch. It will be arriving next month, going by the name Ironman Global Trainer. Yes it has GPS and is not fugly.
It features real-time speed, pace and distance data courtesy of the SiRFstarIII module inside, and it also boasts 50 meters of water resistance, a customizable display to showing off all of the data and it can send performance reports to your PC. It's compatible with Timex heart rate and bike sensors and third-party power meters using ANT+ wireless technology. Did I mention that it looks nice?

It debuts next month, but will ship this May.
GPS, Ironman Global Trainer, Timex, watch