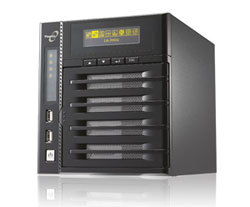 NAS devices used to be pretty much exclusive to the office and enterprise settings to allow for central data backups. With many consumers now producing and using tons of digital content the NAS is also finding its way into homes.
Thecus has unveiled its latest NAS product called the N4200. The device has smart bays that will work with SATA drives of 2.5-inches and 3.5-inches. The device has a built-in battery back up to preserve settings and unwritten data in the event of a blackout.
The system supports RAID 0/1/5/6/10 and JBOD RAID modes. The device also has dual OLED displays and uses an Intel dual core processor. The faster processor allows the NAS to support multiple simultaneous connections. Pricing and availability are unknown.
NAS, RAID, Storage