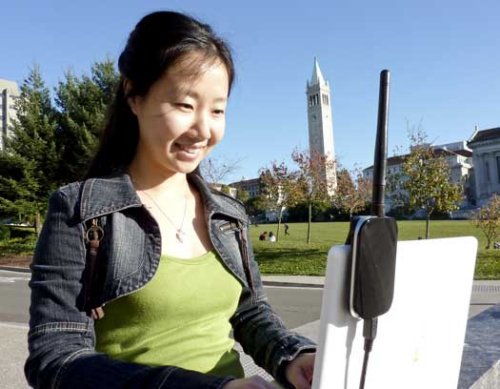 The BearExtender n3 has a few advantages over other WiFi extenders. It's cheap, it works great, and most important of all, it's legal. This external WiFi adapter for Macs costs just $45 and was developed by Rolan Saekow, a Berkeley grad who wanted access to the campus "Airbears" network from wherever he happened to be.
Looks like it works great too. TUAW's testing yielded stronger signals and higher throughput when they used the BearExtender over internal WiFi. The downside, if you consider it a downside, is that the BearExtender runs only on the 2.4GHz band. It doesn't give you the option of a 5Ghz 802.11n network.

It's also bulky, but there's always a trade-off right?
bear extender, bear extender n3, BearExtender, BearExtender n3, BearExtenderN3, Range, Rolan Saekow, wi-fi