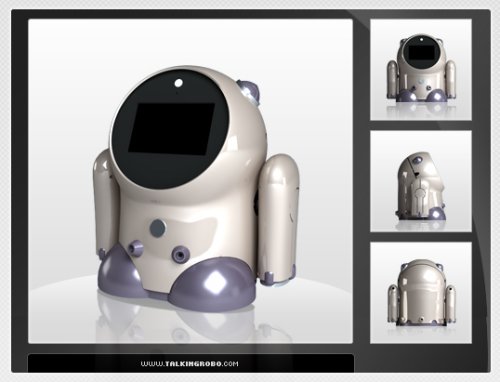 Learning a new language isn't something you do in five minutes. It takes time and practice. But having a robot help you may speed things up. TalkingRobo is a personal robot that can teach you to speak a new language. The bot features speech recognition and understands natural language when you talk to it. He is nice enough to suggest what topics to talk about so you can practice. He also has face recognition so more than one user can use him and he will recognize your face and understand your user profile. In short, he will be your new bestest buddy.
Those aren't his only tricks either. He can recognize images. If you show it an image of an airplane, for example, it will give you the correct pronunciation of airplane, which seems like a great way to learn. Some other features include a Beam projector for displaying novels and watching movies, English dictionary and Encyclopedia, internet connectivity for updates and you can use it remotely to keep an eye on your home if you like too.

Nothing on a release date yet, but we will let you know.
language, Learn, Talking Robo