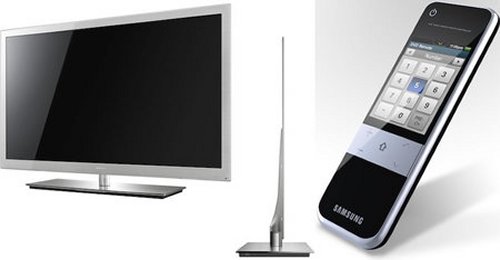 The Samsung 9000 LED LCD will provide support for 3D and will come with a sexy touch-based remote that looks like a tall iPhone with a Samsung logo. The remote has a touch interface and actually shows video from various sources. It can convert anything 2D into 3D.
Along with the 9000, Samsung also showed off some other flatscreens like the 8000, which features edge lit technology, 2D to 3D conversion, and the 7000 that Features Samsung's 'Touch of Color', and a 4-legged stand, as well as the 6500 with DLNA streaming, but no 3D. Lastly the 5000 with low power usage, USB playback, and DLNA.

Samsung should do well with these.
3D, remote, Samsung 9000, sexy, Super-Slim, tv