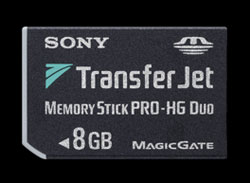 Sony unveiled its Transfer Jet technology at CES. The tech promises to let users send images and video wirelessly between cameras, computers, and TVs at speeds over 500Mbps. Sony has announced its first memory card sporting the tech and it is up for pre-order.
The memory card is called the 8GB Memory Stick with Transfer Jet. The memory card reminds me a lot of the Eye-Fi SD cards that have been around for a while. The main difference is the Sony Transfer Jet tech doesn't upload to photo and video sharing sites automatically.
The 8GB Transfer Jet card is available for pre-order now for $99.99. It will work with any Memory Stick Pro-HG Duo compatible device.
memory card, Sony, Transfer Jet