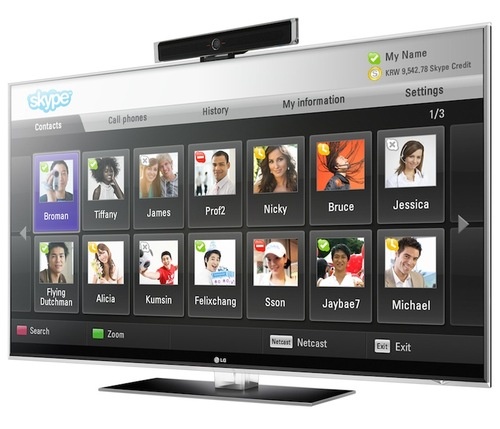 Skype has some interesting news: Looks like they are all about better video quality, with new HD webcams and software support. Even bigger news is that they're teaming up with LG and Panasonic for Skype-enabled HDTVs. Yes skype will now be starring on HDTVs.
Skype 4.2 beta can achieve video quality of 1280 x 720 resolution at 30fps. There's also a line of HD webcams with video encoding and processing onboard. There are two versions from each manufacturer: FaceVision has one with and one without a microphone for $100 and $70. In Store has the Freetalk Pro for $120 and the Freetalk Pro Plus for $140.

LG and Panasonic have integrated a webcam and Skype software into their HDTVs, with just about every Skype feature the computer software has. Voicemail, landline and mobile calls, free Skype-to-Skype, etc. Plus a 720p webcam and microphones that are designed to pick up sound at a distance.
720P, HDTVs, LG, Panasonic, Skype