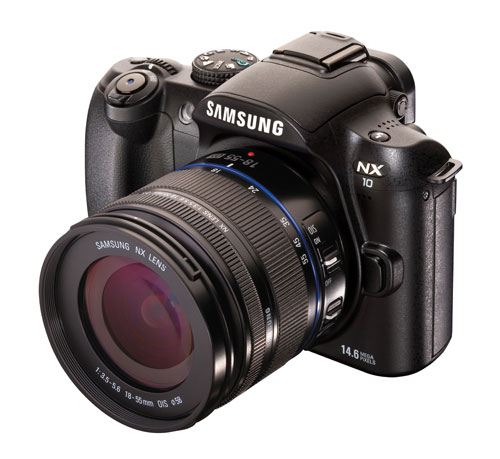 Samsung has unveiled a new digital camera called the NX10 that isn't a point-and-shoot and isn't a DSLR. The camera has interchangeable lenses but lacks the mirror system of a DSLR. The image sensor is also larger than the micro four thirds cameras on the market and the cam uses a slightly larger lens connection than the aforementioned cameras.
The NX10 has a image sensor with 14.6MP resolution and will come in black or silver colors. The display is a 3-inch AMOLED screen that promises reduced power consumption. ISO range for the camera is 100- 3200 and the cam has a built-in flash.
Other features include a dust reduction system, lens shift optical image stabilization, and HDMI out. The camera can record 720p HD video. Samsung plans to launch the camera this spring at an undisclosed price.
digital camera, Samsung