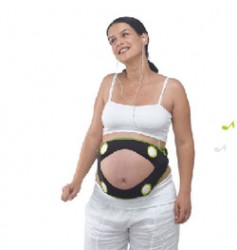 There is some research that suggests after a certain number of weeks gestation talking to your unborn child, playing music for it, and reading to it can help it develop and forge bonds with parents. You could just hold a set of headphones to the mother's belly, or you could use a purpose built system like the new Ritmo device to play your baby music.
Ritmo is a fabric harness that wraps around the pregnant mother and has a pair of straps with two speakers each that wrap over and under the belly. The device also has a control box to set the appropriate volume for the baby.
The mom can listen to the music at the same time it plays through the belly speakers. The belt is washable and ships with an extender that lets it be worn throughout pregnancy. The system is available now for $129.99 and works with iPods and other music devices.
baby, Ritmo