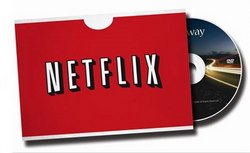 Netflix have now officially announced an agreement with Nintendo of America to stream it's video content to the Nintendo Wii game console. We had heard it was coming way back in October and now Netflix has rounded out its coverage with the big three game consoles including Microsoft's Xbox and Sony's PS3.
The new deal allows Wii console owners who are also Netflix subscribers and have a broadband internet connection to select movies from a catalog of choices and stream them to their television instantly. The service will be offered at no additional cost to subscribers to the DVD by mail service with Netflix with at least an $8.99/month plan.
"The Wii console is the social hub around which friends and family members gather to play games and have fun," said Reggie Fils-Aime, Nintendo of America President. "Soon both new and longtime Wii owners will enjoy the benefits of Netflix — and a variety of informational and entertainment options — by being Netflix members and connecting their consoles to the Internet."
In order to use the service, Wii owners will also need to receive a free software disc in the mail to place in the Wii console whenever they would like to stream a movie from Netflix. The PS3 has a similar disc required to stream the video content as well. An exact date of the release of the service has not yet been provided, but it is expected to hit the U.S. sometime this spring.
Digital Video, Netfix, News, Nintendo, Wii