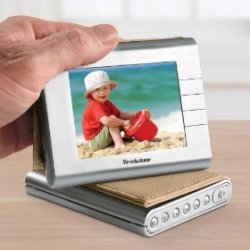 So you want to display pictures of your newborn baby, or maybe some pics of you holding up that 8 pound trout that you hooked. Whatever the image, the My Life Pocket Digital Photo Frame will do the job with a 3.5-inch display sporting a 320 x 240 resolution.
The device even has a rechargeable battery that provides 3 hour's worth of juice. Sadly it has an internal memory of just 128MB and there's no mention of expansion.

It will cost you $69.99 and comes with software to resize your photos.
desk, digital photo frame, gadget, My Life, pictures, pocket