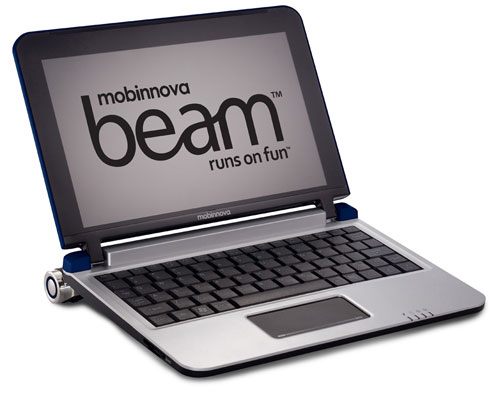 Smartbooks promise to be cheap devices that will cost $200 or so and provide smartphone-like performance with a larger screen. Some of the devices are turning up with prices more like high-end netbooks when you do not opt for a 3G plan with them.
Mobinnova has announced its smartbook called the Beam. The device has an ARM Cortex A9 processor, NVIDIA Tegra for graphics, and an 8.9-inch screen. The screen resolution is 1024 x 600 and the machine has 512MB of RAM. It also sports 512MB of NAND for the Android OS and storage is to a SSD 8 to 64GB in capacity.
A SD card slot is offered for more storage and it has integrated 3G connectivity for AT&T's 3G network. Other features include WiFi, Bluetooth, Ethernet, USB ports, and HDMI out to enjoy the 1080p capability of Tegra. Pricing and availability are unknown.
Mobinnova, smartbook