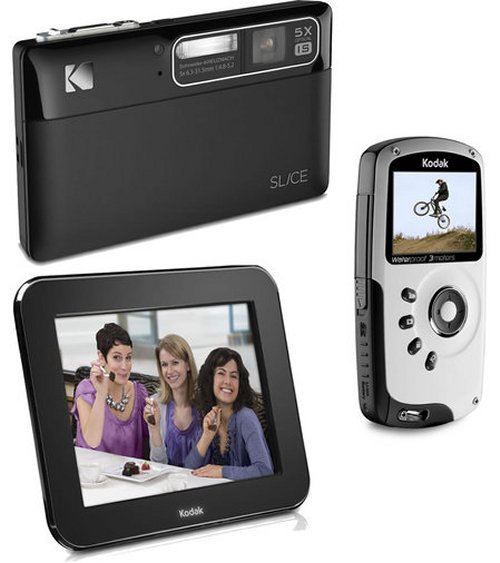 Kodak was busy showing off some new products at CES. The first is the 'Slice' touchscreen camera, which comes with a 3.5 inch rear display, 5x optical zoom, 14mp sensor, image stabilization, and 30fps 720p video capture. It can take up to 5000 images and also sports a new direct-tag feature.
The Pulse digital photo frame features Wi-fi, 512 MB storage and a 7 inch display to view images at 800×600 pixels. Then there's the Playsport Camcorder, which is rugged enough to endure some extreme situations. It supports HD recording, has a 2 inch LCD, 5 MP still shots, smart face tracking and SD/SDHC card slots. It also has a HDMI output and supports USB.

The 'Slice' camera arrives in April for $350 in nickel, black and radish, while the Pulse frame will cost you $130 and the Playsport Camcorder is $150.
14 MP, camcorder, camera, digiframe, Kodak, Playsport, Pulse, slice, Touchscreen