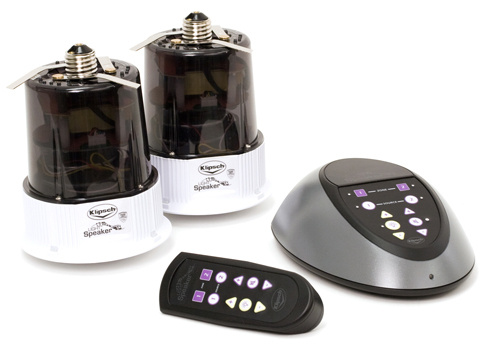 These Klipsch LightSpeakers don't look like much, but if you hate wires, they should appeal to you. The LED light bulb fits 5 and 6-inch light fixtures and is even dimmable, so you can replace the usual bulbs you use with these, which will apparently last for 40,000 hours.
Then you'll be playing music wirelessly through your lights, which is what Thomas Edison wanted all along. They contain a 2.5-inch wide dispersion driver and use 20 watts. The kit comes with a transmitter that connects to a PC, CD player or iPod and sends the audio to up to eight of the light bulbs in two separate zones.

The two LightSpeakers, transmitter, remote and cables cost $599. Individual LightSpeakers are $249 at the end of the month. Pretty expensive bulbs.
Klipsch, LED, light bulb, LightSpeakers, music, sockets