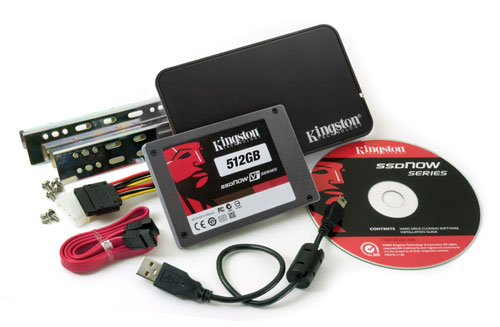 I mentioned earlier this month that Kingston had unveiled a new 30GB SSD kit that was on the chap side for those looking for a nice boot drive in SSD form. The problem is that if you want to store lots of data to the SSD, 30GB is nowhere near enough space for most of us.
Kingston has fixed the lack of space in the SSDNow V+ line with the introduction of a new 512GB SSD. The new drive has Windows 7 TRIM support and is a 2.5-inch form factor drive. The kit has rails to convert it to a 3.5-inch size for desktops.
Sequential read speed on the drive is 230MB/sec and sequential write is 180MB/sec. The NAND used in the SSD is MLC. The line now has 64GB, 128GB, 256GB, and 512GB capacities. The big downside is the price; the 512GB SSD kit sells for $1985.
Kingston, SSD