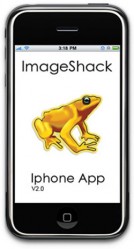 Lots of people around the country take tons of pictures and video with the new iPhone 3GS. Many of the people who take lots of pictures like to share them on ImageShack and Twitter as well. ImageShack has announced a new update for its iPhone app that makes sharing easier.
The app is now at version 2.0 and lets the user directly upload photos and video to ImageShack for sharing. The app also lets the user use yfrog to upload pics to Twitter. Multiple login options allow you control over where and how your images are uploaded.
The new app will let users browse images in their account, edit tags, delete photos, and version 2.0 offers location information. The app also lets the user scroll and zoom pictures. The app is on the App Store now for download.
app, ImageShack, iPhone