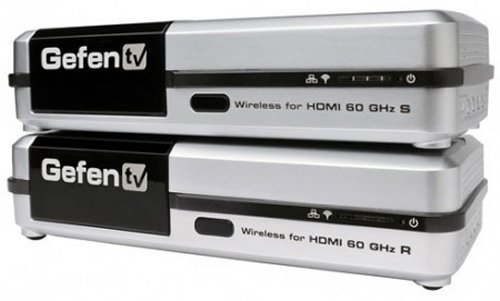 Gefen has released a new wireless HDMI video/audio 60GHz extender that allows uncompressed full HD 1080p video to be transmitted wirelessly from the source to HDTVs. You get both a receiver and sender, featuring multimedia antenna technology that allows the 1080p HD video signal to be sent over a maximum distance of 30 feet.
The LEDs in front let you know what's going on with power status, pairing activity and the strength of the wireless signals. The system supports CEC protocols and allows you to upgrade the firmware via an RS232 serial port. An IR remote is included.

Aside from HDTVs, the Gefen HDMI extender also has a DVI connection for computer monitors with resolutions up to 1920×1200. The system is available now for $1,000.
1080p, Gefen, HD, HDMI Extender, HDTV, streaming, uncompressed, video, wireless