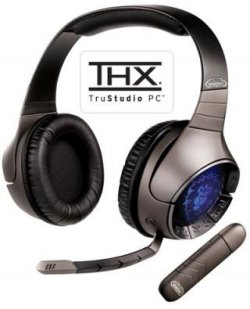 World of Warcraft is the biggest game ever. It's like crack. Players log hours that amount to huge stretches of their life, so it's no surprise that they buy WoW branded accessories to go along with it. This Sound Blaster World of Warcraft Wireless Headset is the latest. It delivers all the sounds, without the wires.
The ear cups have two interchangeable panels that show your love for either the Alliance or HordeTHX. TruStudio PC sound technologies deliver quality depth of sound with virtual speakers surrounding the listener and VoiceFX lets you change your voice whenever you want through a standalone service like Ventrilo. The glowing side panels can also be programmed to display different colors, with over 16 million colors to choose from.

A 4-hour charge gives you 9 hours of continuous audio playback.
Creative, headset, sound blaster, wireless, World of Warcraft, wow