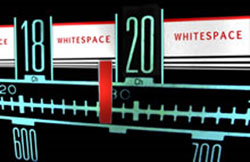 TV stations that broadcast on airwaves today each have what's called whitespace between them. The whitespace is there to keep each broadcast from interfering with the ones next to it. There has been lots of talk about using this whitespace for other uses.
A company called Cambridge Consultants has unveiled a new radio at CES that can use the whitespace to stream HD video and other material around a home. The radio can operate on normal 2.4GHz and 5GHz WiFi bands and can also operate on the 600Mhz whitespace band between stations.
The radio is called InCognito and has special cognitive sensing tech that can detect if another broadcast is using the 600MHz spectrum it is operating in and avoid the broadcasts to prevent interference. The radio is designed to work globally.
streaming video, Whitespace