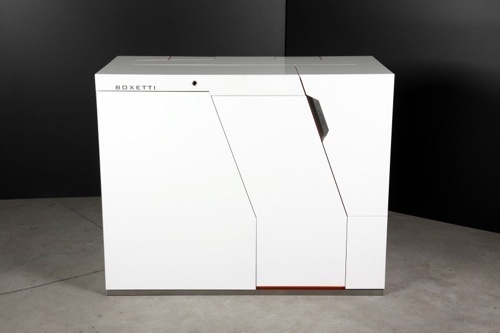 We love home theater systems. The large sound and movie experience is awesome. But it can be challenging setting up all of the speakers and the rest of it. The Boxetti Thrill might make things easier, keeping it all in one place. It's a home theater cabinet from Lithuanian designer Rolands Landsbergs.
When not in use, it looks like an ugly piece of furniture, a washer maybe, but when it's movie time, it opens up Transformers style to reveal a full home theater rig including speakers and a flat screen TV on a motorized lift. There's even hidden storage area for your DVDs and Blu-Rays. Problem is it doesn't get any less fugly.

The Boxetti is available in Europe starting t about $8000. Why?
Boxetti, Furniture, Home Theater, Speakers, Transformers, tv, ugly