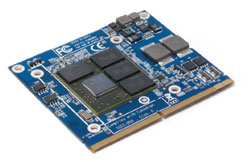 The embedded computing market covers a huge variety of products and applications. Embedded systems can be found in vehicles, industry, and all sorts of other gear you might not think has computing power.
ATI has unveiled a new GPU for the embedded market called the E4690 MXM. The GPU is aimed at digital signage, casino games, arcade games, and other GPU intensive applications. The card uses a Mobile PCI Express interface and promises three times the processing power of previous embedded GPUs.
The GPU has 512MB of GDDR3 RAM, 320 shader processors, and display output options along with adjustable system clocks. The GPU also supports DirectX 10.1 and UVD 2.
AMD, GPU