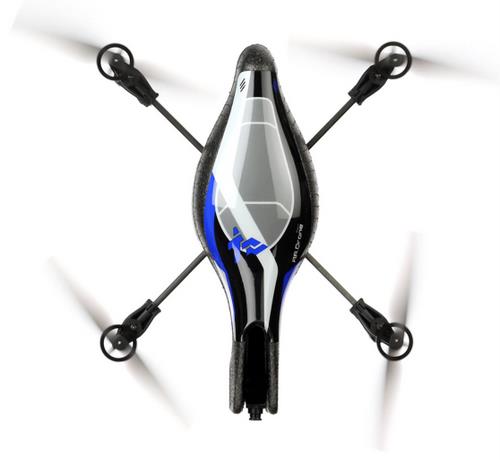 The folks at Parrot have released a new toy RC toy called the AR.Drone, a "quadricopter" that can be controlled and viewed with an iPhone or iPod touch through a WiFi connection. The AR.DRONE works like a remote control helicopter with four separate helicopter blades to maneuver the device, but that is definitely not what makes this copter cool.
What really sets this guy apart from the others is that you can control it with your iPhone or iPod touch using the built-in accelerometers which will sense which way you tip the phone and maneuver the AR.Drone accordingly. The quadricopter also has a couple of cameras on board, one for "seeing" what the AR.Drone sees real-time through the iPhone, but also another camera on the bottom which can track speed and help the 'copter maintain a still flight.
As if that's not enough Parrot has also released a REDMINE open API platform allowing developers to create augmented reality games through the iPhone or iPod Touch for the AR.Drone. Parrot says the new remote control device will be available for purchase sometime later this year but is not giving an exact date or any word on pricing at this point.
Check out the video below of the AR.DRONE in action:

AR.DRONE via GeekyGadgets
AR.Drone, Augmented Reality, helicopter, iPhone, Parrot, quadricopter, R/C