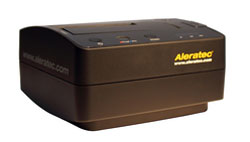 If your computer is vital to your business or pleasure, you may want to seriously consider something a bit more substantial than just backing up your data. Even if you have a recent back up, getting the OS installed and the software back on a new HDD can take hours.
What you need is a HDD clone device like the new 1:1 HDD Copy Cruiser Mini from Alereatec. The device makes an exact clone of your HDD down to the MBR and all partitions. That means in the event of a failure you just change the drive and keep working.
The device supports 2.5″ and 3.5″ SATA I and II HDDs. It has two docks and a button you press to start the clone action. Cloning is done at 72MB/sec and the device is available now for $169.99.
aleratec, Drive Cloneing