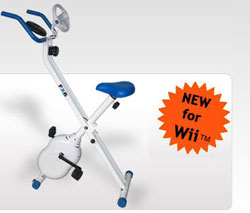 Go to any elementary or middle school today and you will see right away that many kids today are obese. I like my video games as much as the next person, but kids need to run and play too so they can get some exercise. The Fun Xercise Bike for the Wii has debuted to help kids get fit while they play games.
The folding bike has a steering wheel attachment connected to it for inserting the Wii remote for games like Mario Kart. Apparently, the pedals have nothing to do with the game and the user doesn't have to pedal to get the kart to go on screen.
I thought these things made the kart go by peddling. The Xercise bike sells for $99 plus shipping and looks like a cheaper version of the Cyberbike to me.
Exercise Gadgets, Wii