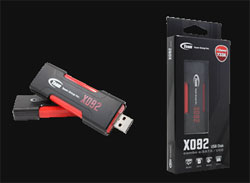 Another day, another new flash drive. These things are being announced by the droves close to CES. A company called Team has announced a new flash drive that features dual connectivity and faster speeds than the typical USB 2.0 drive.
The drive is called the X092 from Team and it requires no power adapter to operate. Presumably, it can get power from the USB port to run in eSATA mode when needed. The drive will come in 16GB, 32GB, and 64GB capacities.
The drive promises eSATA read performance of 110MB/s and write performance of 40MB/sec. To reach those speeds the drive uses quadruple channel technology to distribute the data to the four NAND devices inside the case. Pricing is unknown at this time.
eSATA, USB