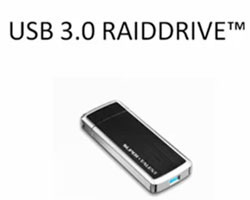 We are only days away from the kick off of CES 2010 and one of the big product categories that will be featured at the show in 2010 is USB 3.0. USB 3.0 is going to go mainstream in a big way in 2010 and lots of flash drives and external storage solutions will be on hand at the big show.
Symwave and Super Talent will be showing off the Super Talent USB 3.0 RAIDDrive. The drive uses the Symwave SW6318 device offering performance of 300MB/s on reads. Super Talent claims that the drive is the fastest USB 3.0 drive on the market.
Super Talent will offer the drive in 32GB, 64GB, and 128GB capacities. Inside the drive housing are parallel channels of NAND flash running in RAID 0 configuration. Pricing is unknown.
Super Talent, USB 3.0