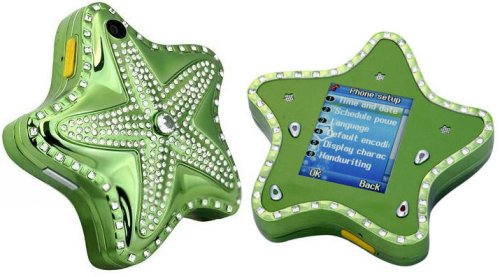 We've seen some strange cell phones from Asia, but never an ocean themed phone like this. This Star Fish shaped cell phone is perfect for calling the little mermaid. Sorry guys, this is a "Lady's Cell Phone". The Star Shape Lady's Cell Phone with Diamond, to be specific.
It's an unlocked GSM phone that features a 1.8″touchscreen, camera, bluetooth, and a 2GB memory card. This one is available in green, pink, gold, or blue, with faux diamonds that glow in the dark.

It will cost you $126. Yeah, we don't why this exists either.
cell phone, Diamond, Starfish