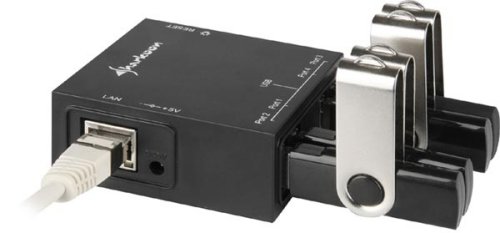 Pogoplug may have been the first to make this type of gadget, but now it's time for some less well known names to offer up similar devices for less money. Sharkoon has now developed their own USB LANPort, which effectively puts USB storage like your flash drives, external hard drives, etc. onto a local network.
Looks like it's mainly for making multiple drives available to a different machines via customized permissions though. The USB LANPort 100 converts a single drive into a device that can be streamed from locally. The USB LANPort 400 handles up to four USB devices. Both devices support automatic and manual IP address contacts and are available now for €22.99 ($34) and €36.99 ($56).

No info regarding a US release yet.
LANPort, local network, Sharkoon, USB, usb drives