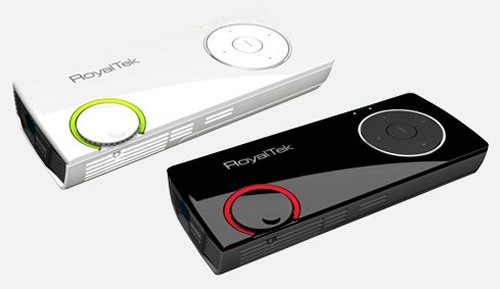 Another day, another pico-projector. This latest is a new model by RoyalTek, the RPJ-2000, all set to be the first of several from the company in 2010. The RPJ-2000 uses a second-gen 3M LCoS chipset and will project up to a 65-inch image with 14 lumens brightness and 640 x 480 resolution.
This one includes VGA and NTSC/PAL TV inputs, but there's no integrated mediaplayer or onboard storage. They do throw in 0.5W stereo speakers and the RPJ-2000 is Apple-certified so you can use it with iPods and iPhones. You just have to add $43 for the adapter kit on top of the $315 price.

RoyalTek plans to launch five new pico-projectors in 2010.
Pico, projector, RoyalTek, RPJ-2000