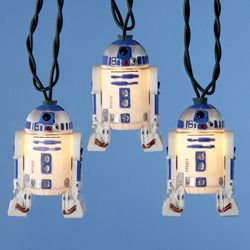 Nothing says Christmas like a string or two of droid lights on your Christmas tree. Besides you probably already have all of the other Star Wars ornaments on your tree.
It's like having a whole clone army of Astromechs. The little robot lights come in a set of 10 per strand and are 12 inches apart. These are priced at about $15-$25. And if you don't want them on your tree they make great geek gifts.

I might just order some myself.
christmas, Christmas Tree, geek, r2-d2, string lights