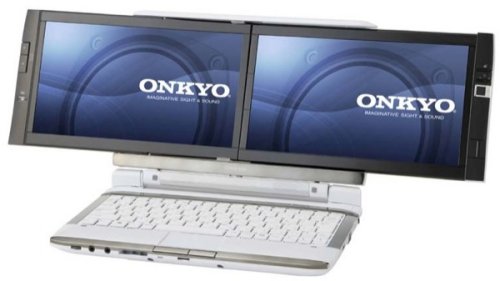 If this looks familiar it's because it's pretty much the same as the Japanese Kohjinsha DZ-series dual-display laptop we've already seen. But Onkyo's DX gives you a pair of 10.1-inch 1,366 × 768 pixel LCD displays.
It features the same 1.6GHz Athlon Neo MV-40 CPU, ATI Radeon HD 3200 graphics, 802.11n WiFi, Bluetooth 2.1 + EDR, and 3x USB jacks, with 2GB of memory expandable to 4GB, a 320GB 5,400rpm disk, Gigabit Ethernet, and 32-bit Windows 7 Home Premium.

The price is just ¥84,800 (or about $966).
dual screen, DX, laptop, Onkyo