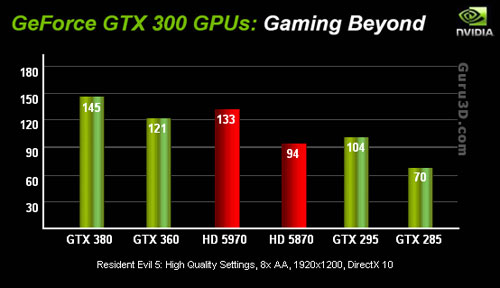 It has been a while since we have seen a new high-end video card come out of NVIDIA. It's competitor ATI recently launched its new HD 5970 and claimed the title of fastest video card. It seems NVIDIA is ready to fire back in the video card wars with new cards of its own.
The new GTX 300 family will include the GTX 380 and GTX 360 video cards. The new cards are both going to offer more performance than NVIDIA's current GTX 295 offering. The GTX 380 will have better performance than the HD 5970 in some benchmarks with the GTX 360 trailing right behind the ATI offering.
There is no word on the hard specs for the card like clock speeds, RAM, and availability. I would bet these cards are both going to be expensive and I would not be surprised to see the GTX 380 at $500 or more. That seems to be the high-end card debut range today.
NVIDIA, video card